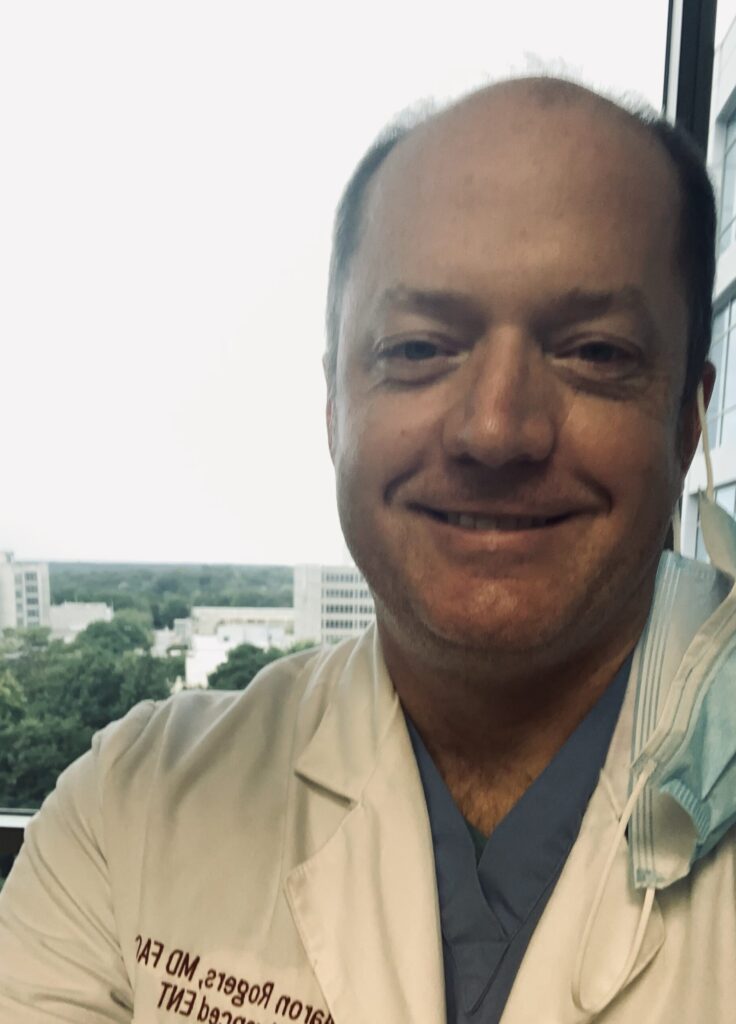 G. Aaron Rogers, MD FACS
Dr. Aaron Rogers is a local leader in the treatment of nasal and sinus disorders. He trained at Emory University completing hundreds of sinus procedures under the supervision of academic rhinologists and endoscopic neurosurgeons there. His research centered on nasal polyposis and chronic sinusitis in addition to studying the effects of topical glucocorticoids (steroids) on the nasal and respiratory tissues. At Advanced ENT he initiated and oversees the Otolaryngic Allergy program, offering allergy testing and modern allergy treatment options (such as "Allergy Drops" or sublingual immunotherapy) for patients suffering from nasal and pharyngeal allergy symptoms. Diagnostic olfactory (smell) testing is also performed.
He also brought Balloon Sinus Dilation, or Balloon Sinuplasty, and the Intersect Propel steroid-eluting sinus implant to the Advanced ENT practice. After performing the first in-office sinus balloon procedure in Atlanta in 2010, he has made this a meaningful part of the treatment options offered to patients suffering from chronic sinusitis and nasal congestion. In 2017, Georgia's first cryotherapy procedure for vasomotor rhinitis was performed by Dr. Rogers.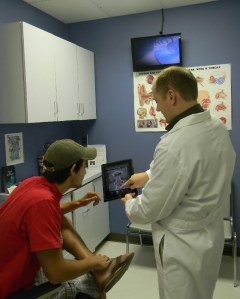 Radiofrequency thyroid nodule ablation has also allowed us to bring in-office treatment of thyroid nodules to our patients. This technology allows treatment of troublesome non-cancerous nodules under simple local anesthesia with an office ultrasound procedure.
Obstructive sleep apnea, snoring and other sleep disorders have special interest to Dr. Rogers as well .Dr. Rogers works with two local sleep laboratories for diagnostic testing and has ability now to perform most sleep apnea tests from home. We have a full-time Certified Sleep Technician on-site to help with testing and fitting of CPAP devices. Dr. Rogers also offers oral appliance therapy (a specialized retainer to wear at night) and an array of sleep apnea surgeries.
Advanced ENT's sinus radiology workhorse – the IAC-accredited Cone Beam CT scanner – is lead by Dr. Rogers as the Medical and Technical Director.
Dr. Rogers has written several scientific publications, editor of a nationally-distributed pocket guide for ENT trainees, and authored a chapter in the textbook Skull Base Surgery Techniques and Concepts. Additionally he has presented medical research at many recent leading national scientific conferences
Dr. Rogers is a member of the American Academy of Otolaryngology – Head & Neck Surgery, American College of Surgeons, the American Academy of Otolaryngic Allergy, and the Georgia Society of Otolaryngology. Dr. Rogers completed ear nose and throat residency program and internship at Emory University. He grew up in Florida, attending Florida State University and the University of South Florida for college and medical school.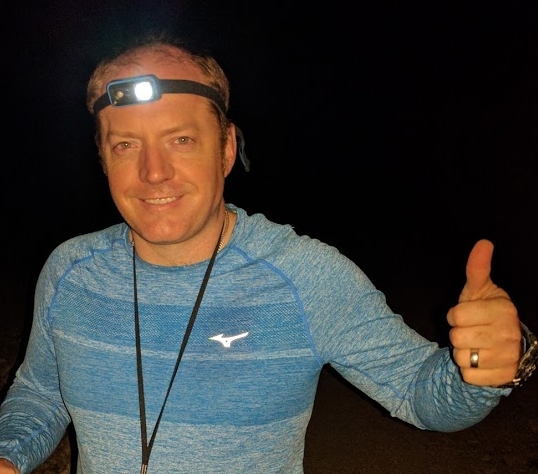 Local hospital affiliations include Northside Hospital, Atlanta Outpatient Surgery Center, St. Joseph's Health Center, Children's Healthcare of Atlanta at Scottish Rite and Meridian Mark Surgery Center.
Dr. Rogers' personal interests include outdoor activities and spending time with his family. When not at work he can usually be found running, hiking, biking or planning his next trek.
Publications:
Rogers G. A. (2023). "Expansile Sphenoid Mycetoma Presenting With Headache and Galactorrhea." JAMA otolaryngology– head & neck surgery, 149(2), 181–183
Rogers, G Aaron et al. "Epithelial tight junction alterations in nasal polyposis." International forum of allergy & rhinology vol. 1,1 (2011): 50-4. doi:10.1002/alr.20014
Wise SK, Rogers GA, et al. "Radiologic staging system for allergic fungal rhinosinusitis (AFRS)." Otolaryngology–head and neck surgery : official journal of American Academy of Otolaryngology-Head and Neck Surgeryvol. 140,5 (2009): 735-40. doi:10.1016/j.otohns.2008.12.053
Zuckerman JD, Rogers GA, et al. "The utility of cadaver dissection in endoscopic sinus surgery training courses." American journal of rhinology & allergy vol. 23,2 (2009): 218-24. doi:10.2500/ajra.2009.23.3297
Rogers, G Aaron et al. "Inferior meatus endoscopy and directed treatment for epiphora: early experience with a novel approach." Otolaryngology–head and neck surgery : official journal of American Academy of Otolaryngology-Head and Neck Surgeryvol. 140,4 (2009): 579-84. doi:10.1016/j.otohns.2008.12.009
Moore, Charles E, and G Aaron Rogers. "Contemporary considerations in cranial-base surgery." Medscape journal of medicine vol. 10,12 (2008): 272.
Rogers, G Aaron, and John M DelGaudio. "Inferior meatus dacryolith: an easily managed cause of epiphora." Archives of otolaryngology–head & neck surgery vol. 134,10 (2008): 1110-1. doi:10.1001/archotol.134.10.1110
Rogers GA, et al. "Methicillin-resistant Staphylococcus aureus orbital abscess in a neonate." Int J Pediatr Otorhinolaryngol Extra. 2007;2:99–101
Back MR, Rogers GA, et al. "Magnetic resonance angiography minimizes need for arteriography after inadequate carotid duplex ultrasound scanning." Journal of vascular surgery vol. 38,3 (2003): 422-30; discussion 431. doi:10.1016/s0741-5214(03)00794-8
Okhuysen PC, Rogers GA, et al. "Antibody response of healthy adults to recombinant thrombospondin-related adhesive protein of cryptosporidium 1 after experimental exposure to cryptosporidium oocysts." Clinical and diagnostic laboratory immunology vol. 11,2 (2004): 235-8. doi:10.1128/cdli.11.2.235-238.2004