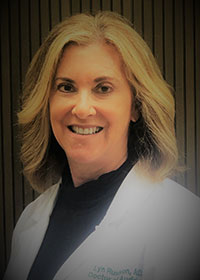 Dr. Lyn Rushton received a Bachelor of Science in Speech and Hearing Sciences from Auburn University, a Masters of Communication Sciences and Disorders from the University of Georgia, and a Doctorate of Audiology from A.T. Still University. She has been practicing for over 20 years within the state of Georgia.
Dr. Rushton has held a variety of positions working with all populations within the metro Atlanta area. Her specialties have included ABR screenings for a Neonatal Intensive Care Unit, hearing aid fittings, vestibular testing, and electrophysiology. Dr. Rushton's career milestones have included the ownership of an Industrial Audiology practice, consulting for a local school system's Hearing Impaired program, and the supervision of doctoral students during rotations and fellowships.
Dr. Rushton joined Advanced ENT in 2012. She conducts diagnostic audiology evaluations including chemotherapy monitoring, while her primary interest is Tinnitus Retraining Therapy. She has obtained extensive training at regional and national conferences and is has been a major regional referral source for tinnitus sufferers for seven years.
Dr. Rushton is an active member and committee chair of the Georgia Academy of Audiology. She holds a Certificate of Clinical Competence in Audiology from the American Speech and Hearing Association. She is licensed to practice in the state of Georgia. While Dr. Rushton works as a part-time audiologist within our clinic, she devotes the remainder of her time as an adjunct professor in the Audiology program at Auburn University.